Ray - A hobbyist's tribute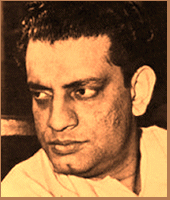 The Creator
Satyajit Ray (1921-1992), film director extraordinary, writer, Bengali cultural icon and scion of a clan noted for the contributions of several of its members to literature and art, was probably the most widely known creative artiste of India in the second half of the 20th century. Indeed, since the decease of Tagore, no other Indian has been as famous globally and received as much public admiration and critical acclaim all over the world as Ray.

Though in the West he is best known as an Oscar-winning film-maker, Satyajit Ray's reputation in India extends to a great many other spheres. Besides being an artist (his portrait of Rabindranath Tagore appears on the 1961 Indian stamp commemorating his birth centenary,and he designed the Ray Roman type-face), he was a prolific short story writer, with over a dozen volumes to his credit.
Between 1965 and 1992, Ray wrote a total of thirty-five Feluda stories (in Bengali, his native language), featuring the master sleuth Pradosh C. Mitter, his assistant Topshe, and Lalmohan Babu (alias Jatayu), a bumbling writer of crime fiction. The locales range from Gangtok and Varanasi to Jaisalmer and Ellora, apart from Feluda's home town of Calcutta. The plots involve murder, intrigue and adventure, narrated in a racy, humorous style.His most famous creations also include Professor Shonku the scientist.
A stamp released in his memory

January 11, 1994 , Ray with Oscar, Pather Panchali scene